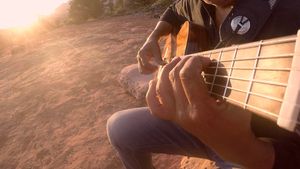 Welcome
to the music site for acoustic guitarist,  Patrick Ki. We invite you to experience the smooth, melodic instrumental blend of Latin jazz, classic pop & Hawaiian slack key music that has delighted listeners for over 30 years!
Guitarist Patrick Ki performs as a solo artist and with bands in Sedona, the Verde Valley & Phoenix. 
PATRICK KI REGULAR APPEARANCES in Sedona, AZ
MONDAYS 5:30-7:30pm @ Tlaquepaque (El Rincon restaurant - outdoor stage). Flamenco w/ Gaetano & friends (Patrick on gypsy ukulele!). No Cover!  
WEDNESDAYS @ Sound Bites Grill May 17, 24, 31, June 14, 21, 28), 5-8PM Wineaux Wednesday
FRIDAYS  at Arabella Hotel (May 12, June 30) 6-9PM
1st FRIDAYS at Tlaquepaque Art & Wine (Dates: , 6/2-MMK Trio, 9/1- solo) 4-7PM
SATURDAYS @ Sky Rock Inn, 6-9PM  (Dates: May 6, 13, 20, 27),
Every 2nd SUNDAY 5-8pm - "Jazz & Juice" (Patrick-solo guitar) @ Sound Bites Grill (Date: May 14, June 11)
SUNDAYS  at Amara Resort (May 7, 21, 28.) 6-9PM
WEEKLY -You can also catch Patrick  12-3pm many weekdays &weekends @ Tlaquepaque (various outdoor patios. weather permitting)
SPECIAL SHOWS   
Fri. June 1, 4-7pm - Tlaquepaque (1st Friday Art & Wine walk) - MMK Trio (Fun, Rockin' hits w/ Patrick , Robin Miller & Susannah Martin)  
Sun. July 2, 6:30-9:30pm - Bella Vita Ristorante - MMK Trio (Fun, Rockin' hits w/ Patrick , Robin Miller & Susannah Martin) on outdoor patio stage! No Cover with dinner entree purchase.  
Fri. July 7, 7-10pm - Sound Bites - 3MKi (-Classic Rock Hits, bluesy originals, spicy latin grooves, hot guitars, rich vocals. w/ Patrick , Robin & Eric Miller & Susannah Martin). Cover - $15-20.
MAILING LIST
0:00/4:47

0:00/4:14

0:00/4:19

0:00/4:09

0:00/4:28